Hope that you and your family are all safe and well. At Khidmah.SG, we have always believed in providing solutions to meet the ever-changing needs of our clients and customers. Maintaining and cleaning up the graves can be a tough job especially when we are just unable to schedule a visit to the grave due to a busy lifestyle.
Let us help you perform this arduous task.
For a limited time only, we are offering a One Off Clean Up Promo that is valid till 24 April 2022 or earlier as we will close registration once it has reached maximum capacity.
We will strive to have it cleaned in time before Hari Raya 'Aidilfitri as we are still on schedule:
Total Orders 154
Total Completed 141
Total in Queue 13
Take a look at some examples of the graves that we have cleaned: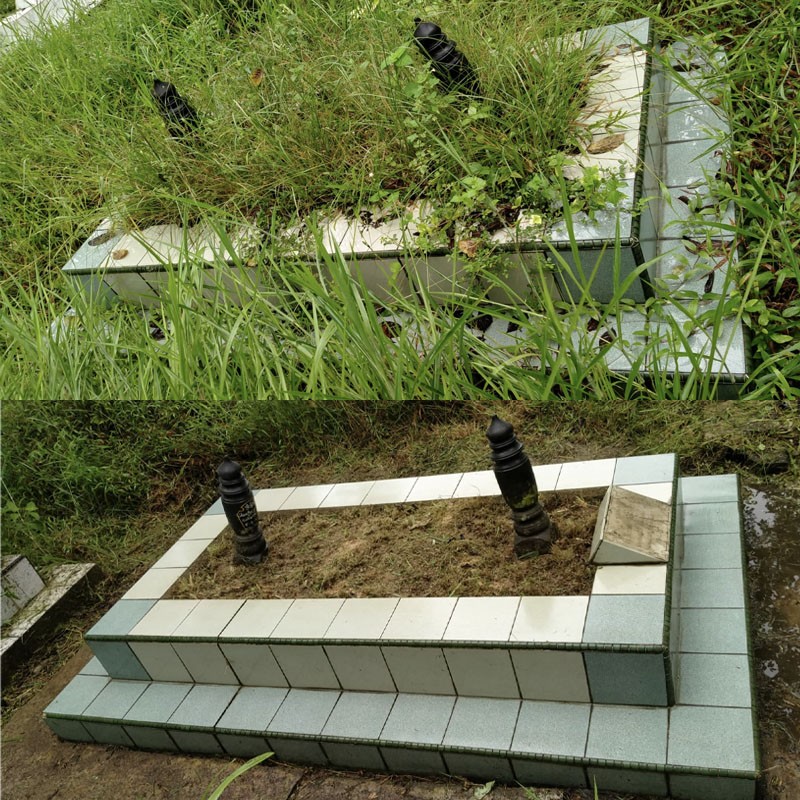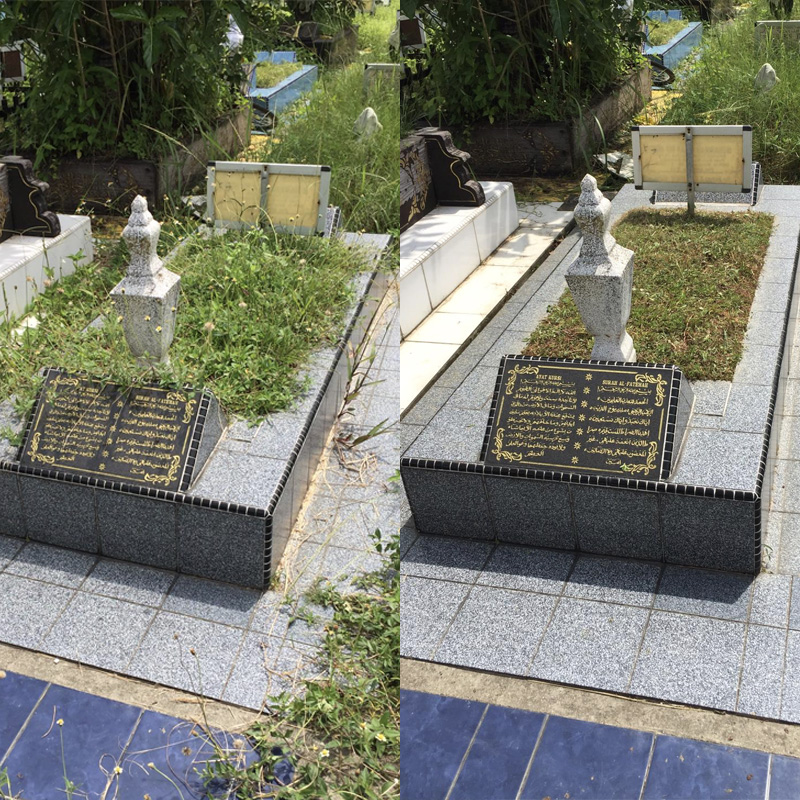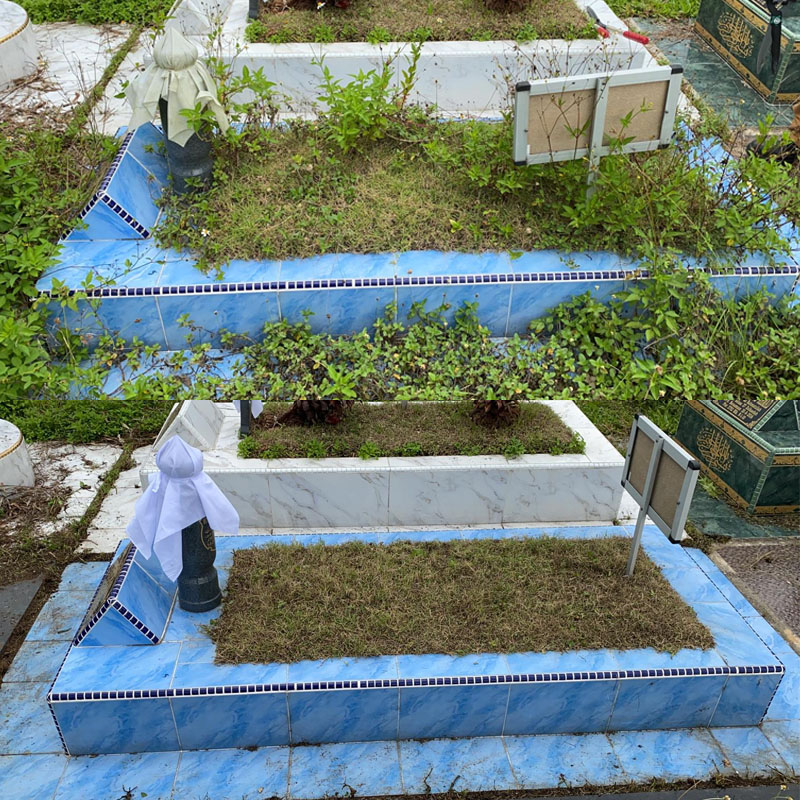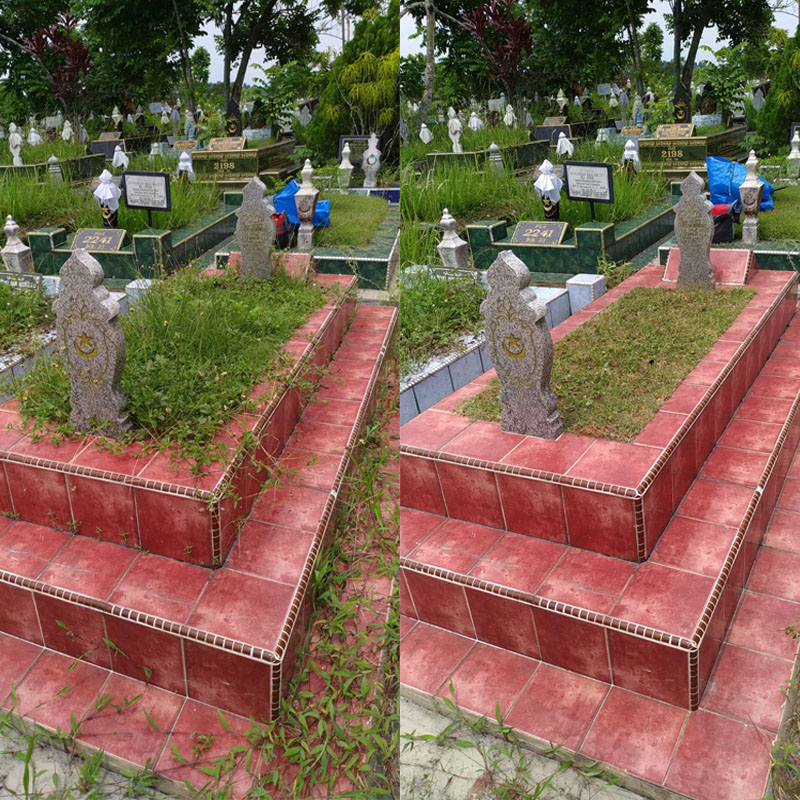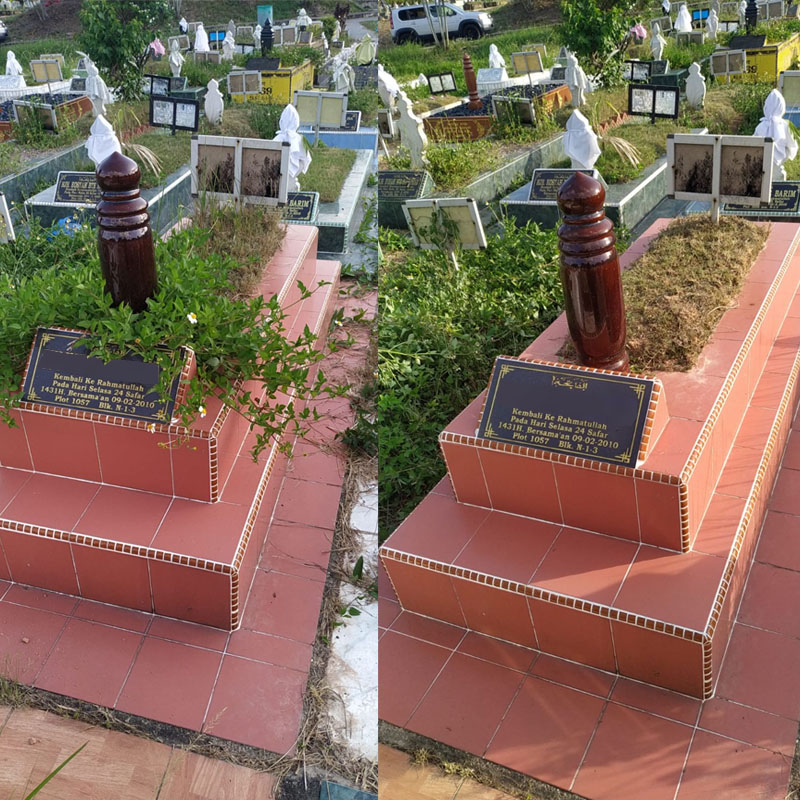 Here's what our clients said about our service: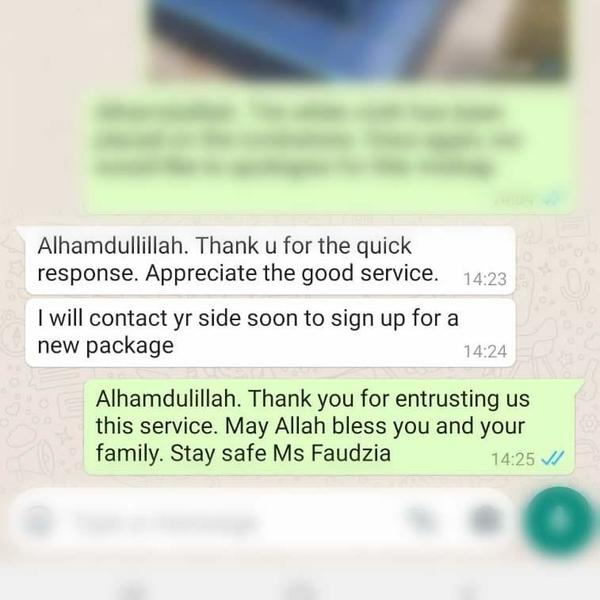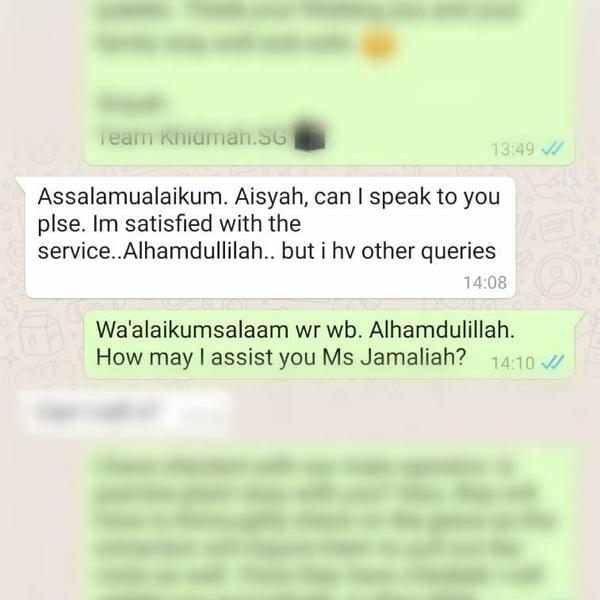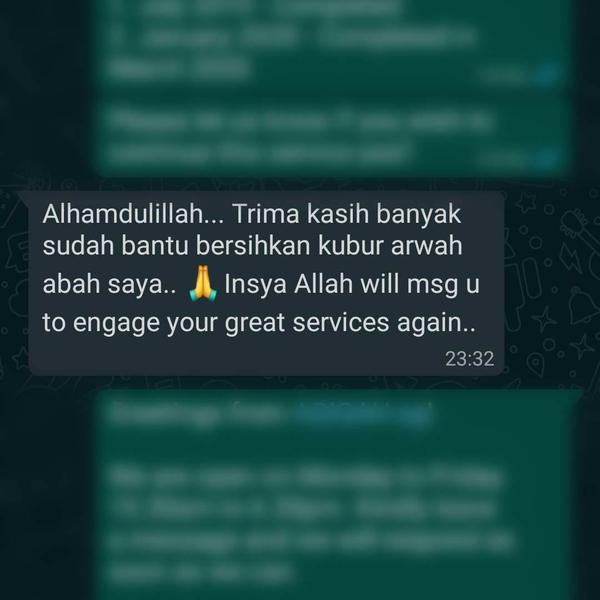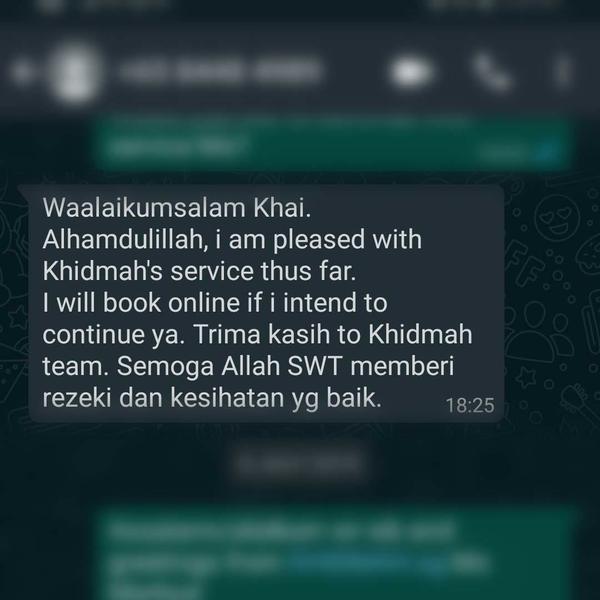 Don't miss out on this promotional price. Press this button to Register Now.
Have you or your family made plans for Iftar today? We might be spoilt for choices here in Singapore perhaps deciding between a mouth-watering and juicy Ramly burger or sweet and succulent mutton Satay. Meanwhile in some other parts of the world, our brothers and sisters might need to make 'difficult' decisions too. However, it would be less of a matter of which food but rather a matter of which mealtime. Questions like, "If we are having this for Iftar today, what food will there be for my family tomorrow?" would quite often cross their minds. One way for us to show gratitude to Allah for blessing us with wealth is to spare some thought for our brothers and sisters through the many fund raising or support initiatives made available to us through sincere organizations in our country.
We at Khidmah.SG are offering Nazar / Sadaqa Ramadan packages by partnering with a local in Kecamatan Giri, Kabupaten Banyuwangi, Jawa Timur (https://goo.gl/maps/kpqdjodpfzjai1Yh7) who has identified families that will benefit from this. Here are some of photos of the intended recipients and their homes. To contribute, simply press the contribute button below.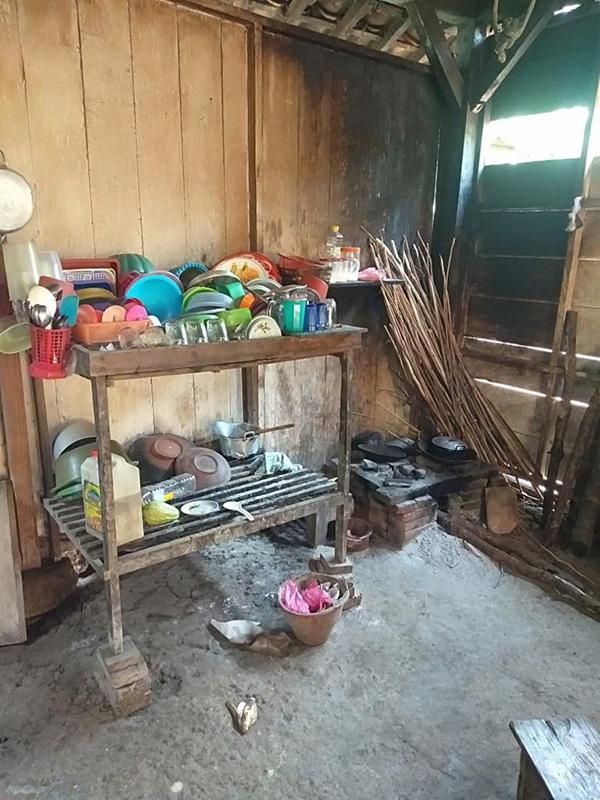 Aqiqah Carried Out In March 2022 🐐
| | | |
| --- | --- | --- |
| Date | Name for Aqiqah | Location |
| 1/3/22 | Nur Anisah Zafirah Binte Mohamad Aidil | Banyuwangi |
| 1/3/22 | Yusha Etizaaz Azhar | Banyuwangi |
| 4/3/22 | Rayyan Khayyir Bin Subhan | Banyuwangi |
| 5/3/22 | Iman Ilyas Yacob | Banyuwangi |
| 6/3/22 | Adam Zarif Bin Zulkifli | Semarang |
| 6/3/22 | Dina Aulia Binte Muhammad Fihrin | Semarang |
| 6/3/22 | Shaan Iman Bin Muhammad Nadzri | Banyuwangi |
| 7/3/22 | Isa Hayman Bin Abu Ubaidah | Kenya |
| 7/3/22 | Ariqah Aykiz Binte Muhammad Alif | Kenya |
| 7/3/22 | Nuha Aafiyah Binte Muhammad Bukhari | Banyuwangi |
| 7/3/22 | Shasmeen Binte Mohamad Idros | Banyuwangi |
| 8/3/22 | Zayd Bin Muhammad Balya | Australia |
| 9/3/22 | Nur Alayna Arissa Binte Mohammad Rafizal | Semarang |
| 9/3/22 | Hanania Irdina Binte Muhammad Ilmi | Semarang |
| 9/3/22 | Mohamed Fayzan Bin Mohamed Fareed | Kenya |
| 10/3/22 | Nayla Nafisah Binte Muhammad Dzulfadhli Hakim | Semarang |
| 10/3/22 | Medina Binte Muhammad Sofian | Kenya |
| 11/3/22 | Ilhann Bin Kamaruzaman | Banyuwangi |
| 14/3/22 | Anas Hazqil Bin Muhammad Hasbullah | Banyuwangi |
| 15/3/22 | Ibrahim Musa Bin Mohammed Farhan Al-Nuhii | Semarang |
| 17/3/22 | Ihsan bin Muhammad Ridzuan | Semarang |
| 17/3/22 | Inara Binte Muhammad Fakhruddin | Semarang |
| 19/3/22 | Eshal Maliyha Binte Shah Danial | Kenya |
| 20/3/22 | Siti Izzy Lutfiyya Binte Erwin Shah | Semarang |
| 20/3/22 | Azrael Shabaz Bin Sukhairul Nizam | Kenya |
| 20/3/22 | Ashley Suhaidah Binte Sukhairul Nizam | Kenya |
| 20/3/22 | Ashlyn Suhailah Binte Sukhairul Nizam | Kenya |
| 21/3/22 | Ayeesha Aynaz Jan Binte Muhammad Haiqal | Semarang |
| 21/3/22 | Muhammad Zeeshan Azriel Bin Muhammad Zaki | Banyuwangi |
| 22/3/22 | Nur Ayra binte Nur Abidin | Semarang |
| 22/3/22 | Alayna Bte Mohammed Fadhil | Kenya |
| 22/3/22 | Aisyah Nur Jannah Bte Afrio Saddam | Banyuwangi |
| 23/3/22 | Adira Sophia Binte Suyadi | Semarang |
| 24/3/22 | Muhammad Aryan bin Muhammad Yahya | Semarang |
| 25/3/22 | Ayyash Aulian Bin Amirul | Banyuwangi |
| 25/3/22 | Syafiq Zhakif Bin Muhammad Shazwan | Banyuwangi |
| 26/3/22 | Nur Ariana Bte Fauzuli | Banyuwangi |
| 26/3/22 | Nur Eliana Bte Fauzuli | Banyuwangi |
| 26/3/22 | Nur Azlina Bte Ngadi | Banyuwangi |
| 28/3/22 | Hamzah Naufal Bin Khalid Ali | Semarang |
| 28/3/22 | Nur Khalis Ziqri Bin Muhammad Kamarularifin | Semarang |
| 28/3/22 | Nur Khilfi Zaheer Bin Muhammad Kamarularifin | Semarang |
| 28/3/22 | Hamzah Naufal Bin Khalid Ali | Kenya |
| 29/3/22 | Naira Alayna Binte Muhammad Hafiz | Semarang |
| 31/3/22 | Marissa Bte Mahat | Banyuwangi |